Recycled 20 20 Countdowns & Remembering A Screen Legend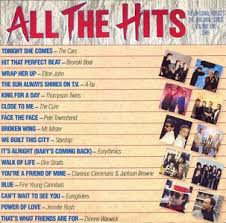 Monday - A Compilation Compilation!
We're bringing together 2 of the great compilation albums of the 80's.. when compilation albums were in their hey day.. We'll play the top hits from "All The Hits 1986".. and "1983 - The Hot Ones". Remember to share your favourite compilation albums with us and listen for the next compilation compilation countdown.
Tuesday - A hit movie and the top 20 hits from early June 1991!
We're heading back to the week when "City Slickers" hit the big screen. It was a busy week - the chase for skase started after the former part owner of 7 and the Brisbane Bears filed for bankrupcy. In other news, Prime Minister Bob Hawke and Treasurer Paul Keating went head to head and the number 1 came from a bet. That and more as we visit this week in 1991.
Wednesday - Remembering a screen legend as we visit this week in 1979!
Join us we head back to the week when one of the all time movie greats, John Wayne died. We'll pay tribute to the Duke amongst the hits of this week in 1979. Also, we'll remember when we started saying "And Aveagoodweekend". It wasn't such a great time for Australian cricket as we remember the 1979 Cricket World Cup.. and the number 1 came from a group who had 2 big chart toppers within a month of each other. That and more as we play the top 20 from early June 1979!
Thursday - Hey Hey were settling into a new timeslot in early June 1985!
Yes, they were on top of the world in 1985! Hey Hey It's Saturday successful switch to a night time variety show was confirmed when they were switched to 6.30. We'll remember that inside the top 20 from this week... also the latest James Bond film premiered in London and old coke was back. Speaking of returns, our number 1 comes from a band who hadn't had a hit in Australia for 4 years. That and more as we visit early June 1985 on the 20 20 Retro Countdown!
Friday - Recycling one of our favourite countdowns!
Yes, we celebrated National Recycling Week last year with the Recycled Hits.. songs that arists and bands brought back for various reasons..we'll hear the stories behind those hit returns amongst the Recycled Hits Countdown.