Sci Fi, a trip back to our Bi-Ci & B'day's on the 20 20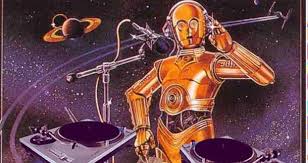 Monday - The top 20 Sci Fi Hits!
Join us for a stack of songs from a long long time ago and a galaxy not so far away. From computers to rockets, space and aliens - they're all there as we play songs with sci fi themed...Also, along the way, we'll countdown the biggest Sci Fi movies... and, don't want to upset DJ C3PO but "Star Wars" isn't at number 1. So - we're boldly going where no countdown has gone before with the Sci Fi hits 20 20 Retro Countdown!
Tuesday - Mick Dundee returns - and so do the hits of this week in 1988!
Yes, it was in late May 1988 that the sequel to the biggest Australian box office hit of all time was released. It was also the week when our current Prime Minister was making a name for himself. Malcolm Turnbull was facing off with the British Government. Do you remember why? Don't miss the top 20 from this week in 1988, featuring a number 1 from a singer who called fame "Dangerous"
Wednesday - We say Nano Nano to the hits of late May 1982!
This 20 20 Retro Countdown takes us back to the week when the final episode of Mork & Mindy aired. We'll re-live those final moments when we play the hits of this week in 1982. It was also the week when a new record was set for solving the rubiks cube. I still haven't solved it in 35 years (without taking the stickers off!) The number 1 from this week was a song that finally confessed our feelings for Rock n Roll! All that and more as we visit late May 1982 on the 20 20 Retro Countdown.
Thursday - We're going LOUD amongst the hits of this week in 1976!
Yes, it's a countdown from the week when this band made the Guiness Book Of World Record - for being the all time loudest!! Do you know who they are? We'll also remember when Charlton Heston and James Coburn teamed up on the big screen in a memorable Western - and an Australian electronics brand recruited the group who were at number 1 for a TV ad. That and more as we enjoy the top 20 from late May 1976!
Friday - We break out the balloons for the June Birthdays!
Tell you one thing.... June is massive for musical celebrities celebrating a birthday! We'll pay tribute to the artists who missed out, while we celebrate the 20 that made this birthday list... including 2 knighted artists! There's also the biggest actors who have a birthday coming up over the next month. Packing a lot of celebrating into the June Birthdays 20 20 Retro Countdown!