Five Fleetwood Mac Facts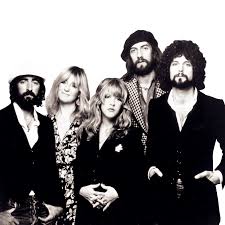 On the 20 20 Retro Countdown - we're celebrating the 50th anniversary since the release of their first album..
So here's a few things that you might not have known about Fleetwood Mac.
1 - "The Chain" is the only Fleetwood Mac song written by all the members!
That classic line up of Fleetwood, J. McVie, C. Mcvie, Buckingham and Nicks mostly wrote seperately with some collaborations between members or song writers outside the group... but the Chain is diffferent. It actually started as three different songs written by three seperate members of that "classic" Mac line up.. and then with seperate input from the other 2 - those 3 songs were brought together - to become then only song credit to all 5 members of Fleetwood Mac.
2. Christine McVie had some "perfect" qualities.
Before marrying Fleetwood Mac bass guitarist John Mcvie, Christine's maiden name was "Perfect". Why on earth would you give up the name "perfect" - especially if your in showbiz! Maybe they could've even added her name to the band's name... "Perfect Fleetwood Mac". Anyway, Christine actually released a solo album under the name Christine Perfect in 1970.
3. Their hugely successful 1987 album wasn't meant to be a Mac album
Lindsay Buckingam has released more alums away from Fleetwood Mac than any other member - past or present - with 11. There was nearly a 12th with the 1987 album "Tango In The Night" starting as a solo project for Lindsay. He wrote, or co wrote, 7 of the 12 tracks on the album and co-produced it too.. so there's a fair bit of Buckingham influence.
4. The Mac's biggest album had a late name change.
"Rumours" has sold over 40 million copies and is by far their most successful album. As Stevie Nicks told us on the Fleetwood Mac special on the 20 20 Retro Countdown, it came from a moment in time that can never be repeated as the members went through break ups - inspiring some of the greatest pop hits of the late 70s.... including "Don't Stop". Before all the rumours.. that hit was going to give the album it's title from the lyric "Don't You Look Back"....
5. This drummer was inspired by Fleetwood Mac's Drummer.
Compare the pictures... look at Animal from the Muppet Show... and Fleetwood Mac's drummer Mick Fleetwood (in the pic above).. pretty easy to confirm that Mick was the inspiration for the mad Muppets drimmer. Look at that wild look in the eyes and the hairy face - it's Mick Fleetwood all over!